"Virtual" Holy Communion
Wednesday 21st October 2020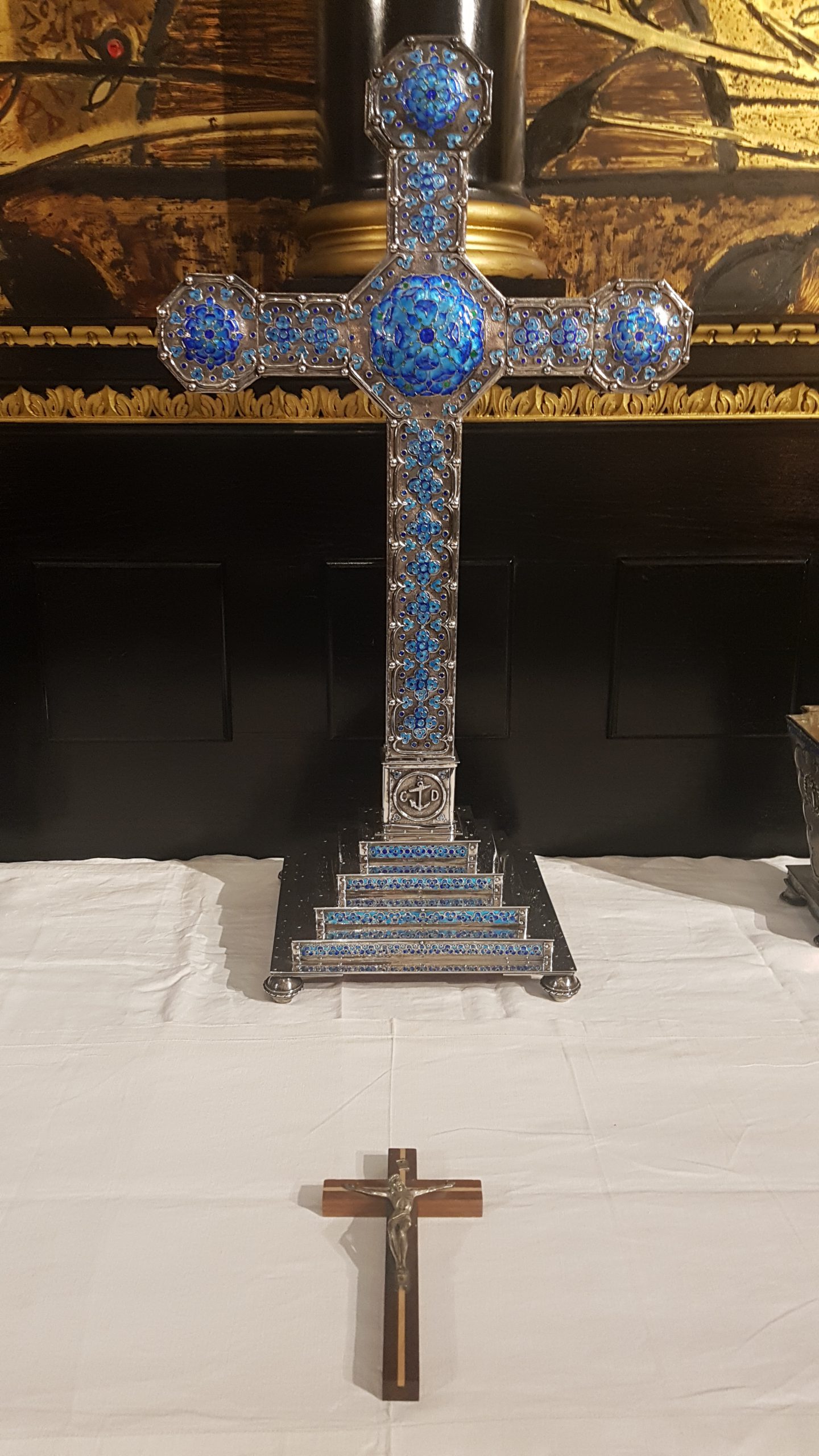 Message from our Padre, David Osborn:
Good Afternoon, thank you for joining us for our regular Wednesday afternoon act of Holy Communion.
As we come together virtually, in the presence of our Lord, take a little time after our Communion to pray for all effected by the virus pandemic, pray also for family, friends, neighbours and colleagues.
This Sunday, I will be holding our service by Podcast and live in the church. I shall post details in our News section on the website and on our Facebook, Twitter and Instagram accounts. Please join us on Sunday at 11.00.
God Bless you and your family
David Osborn
Act of Spiritual Communion
First settle yourself quietly without distractions.
Turn the phone and TV off.
You might want to play quiet, reflective music in the background.
You may want to light a candle as a focus.
You could even set up a 'prayer corner' with any religious images, statues, candles etc.
Be still, and know that God is with you.
In the name of the Father and of the Son and of the Holy Spirit.
Amen.
Now call to mind your sins and make this act of contrition:
Lord Jesus Christ, Son of the living God, have mercy on me, a sinner.
Ask God for his forgiveness:
May the Lord in all his mercy, grant me forgiveness of my sins, deliver me from evil, and bring me to the joy of eternal life.
Amen.
At this point read the Opening Prayer (Collect) for the day – or for the previous Sunday if you have this available from a pewsheet or online. If not, then use this general prayer:
O Lord our God, accept the fervent prayers of your people; in the multitude of your mercies look with compassion upon us and all who turn to you for help; for you are gracious, O lover of souls, and to you we give glory, Father, Son, and Holy Spirit, now and for ever.
Amen.
Now read the Gospel of the day or of the previous Sunday. If you have no access to online resources or no current pewsheet, you may read one of the following Gospel passages:
Reading
Luke 12.39-48
'But know this: if the owner of the house had known at what hour the thief was coming, he would not have let his house be broken into. You also must be ready, for the Son of Man is coming at an unexpected hour.'
Peter said, 'Lord, are you telling this parable for us or for everyone?' And the Lord said, 'Who then is the faithful and prudent manager whom his master will put in charge of his slaves, to give them their allowance of food at the proper time? Blessed is that slave whom his master will find at work when he arrives. Truly I tell you, he will put that one in charge of all his possessions. But if that slave says to himself, "My master is delayed in coming", and if he begins to beat the other slaves, men and women, and to eat and drink and get drunk, the master of that slave will come on a day when he does not expect him and at an hour that he does not know, and will cut him in pieces, and put him with the unfaithful. That slave who knew what his master wanted, but did not prepare
himself or do what was wanted, will receive a severe beating. But one who did not know and did what deserved a beating will receive a light beating. From everyone to whom much has been given, much will be required; and from one to whom much has been entrusted, even more will be demanded.
Prayer for today
Almighty Lord and everlasting God,
we ask you to direct, sanctify and govern both our hearts and bodies
in the ways of your laws and the works of your commandments;
that through your most mighty protection, both here and ever,
we may be preserved in body and soul;
through our Lord and Saviour Jesus Christ.
Amen
Virtual Communion
Ephesians 3.2-12
for surely you have already heard of the commission of God's grace that was given to me for you, and how the mystery was made known to me by revelation, as I wrote above in a few words, a reading of which will enable you to perceive my understanding of the mystery of Christ. In former generations this mystery was not made known to humankind, as it has now been revealed to his holy apostles and prophets by the Spirit: that is, the Gentiles have become fellow-heirs, members of the same body, and sharers in the promise in Christ Jesus through the gospel. Of this gospel I have become a servant according to the gift of God's grace that was given to me by the working of his power. Although I am the very least of all the saints, this grace was given to me to bring to the Gentiles the news of the boundless riches of Christ, and to make everyone see what is the plan of the mystery hidden for ages in God who created all things; so that through the church the wisdom of God in its rich variety might now be made known to the rulers and authorities in the heavenly places. This was in accordance with the eternal purpose that he has carried out in Christ Jesus our Lord, in whom we have access to God in boldness and confidence through faith in him.